AUTHENTICITY
Rosendale 12M Mortar Used for Restoration of the American Museum of Natural History; Project Wins Preservation Award
Custom color-matched Rosendale 12M natural cement masonry mortar has been used for repointing of the historic south range of the American Museum of Natural History in New York. Mortar analyses of the 1892 landmark facade confirmed historic documentation of the use of natural cement in the building's original construction. The reintroduction in 2004 of authentic Rosendale Natural Cement Products® created an opportunity to maintain this unique architectural treasure's historic integrity.
Contractor: Nicholson & Galloway, Glen Head, NY
Architect: WJE Associates, Inc., New York, NY
ASTM C10, Standard Specification for Natural Cement, reinstated in 2006, was again updated in 2014. The current version of one of ASTM's oldest standards was modified to permit the use of functional additions such as retarders and superplasticizers to facilitate use. Such additions must be disclosed on product labels, to permit purchasers to choose whether to employ such additions or not. The standard is available online at www.astm.org.
Conservators, engineers and architects specifying "natural cement meeting the requirements of ASTM C10", can be assured they will get the authentic, traditional material used in thousands of 19th Century buildings and structures, and that it will meet the same structural performance requirements it was designed to meet over a century ago.
Edison Coatings Rosendale 10C Natural Cement and Quick-Setting Natural Cement meet the requirements of ASTM C10/10M-14.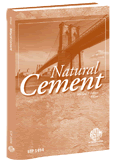 ASTM STP 1494 - Natural Cement
A valuable book is available from ASTM. Entitled "STP 1494 Natural Cement", including:
10 original papers presented at the First and Second American Natural Cement Conferences

Copies of the reinstated 2006 ASTM C10 Standard Specification for Natural Cement and the original 1904 standard

Reprinted excerpts of rare historical materials, including Young (1817) on canal construction materials, Totten (1838) on tests of lime and natural cement for use in fortifications, Vose (1857) on masonry materials for railroad construction and Cummings (1898) on buildings and structures built using natural cement.
The volume may be ordered from ASTM International online HERE.